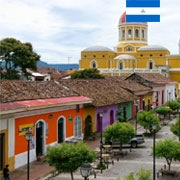 Nicaragua is approximately the size of the state of New York, it is the largest country in Central America, with a population of 5.4 million people. Before the 1980s, Nicaragua was one of the richest and most successful countries in Central America. Today, as a result of political instability and war, more than half of the population is under 18 years of age, malnutrition is commonplace, and Nicaragua is the second poorest country in the Americas.
More than 2.3 million citizens live in poverty, and 831,000 live in extreme poverty. The impoverished areas are the rural areas. The country's struggles to rebuild and prosper are made more challenging by the diverse geography and sometimes unpredictable climate. Nicaragua's physical geography divides it into three major zones: Pacific lowlands; the wetter, cooler central highlands; and the Caribbean lowlands.
Because western Nicaragua is located where two major tectonic plates collide, it is subject to earthquakes and volcanic eruptions. Although periodic volcanic eruptions have caused agricultural damage from fumes and ash, earthquakes have been by far more destructive to life and property. Hundreds of shocks occur each year, some of which cause severe damage.
The capital city of Managua was virtually destroyed in 1931 and again in 1972. Rainfall is seasonal: May through October is the rainy season, and December through April is the driest period. During the rainy season, eastern Nicaragua is subject to heavy flooding along the upper and middle reaches of all major rivers. The coast is also subject to destructive tropical storms and hurricanes, particularly from July through October. The high winds and floods accompanying these storms often cause considerable property destruction. In addition, heavy rains (called papagayo storms) accompanying the passage of a cold front or a low-pressure area may sweep from the north through both eastern and western Nicaragua (particularly the rift valley) from November through March.
Nicaragua Quick Facts
General
· Nicaragua is the 2nd poorest country in the Western Hemisphere.
· The infant mortality rate is 22/1000 births.

· Only 48% of students who begin the 1st grade finish the 6th grade.

· For every 1000 births, 100 children are born to teenage mothers.
Education
· 2% of Nicaragua's population could use the internet as of 2004
· 10+ years required to complete primary-level education
· 79% of primary school-aged children are enrolled
· 29% of children complete primary-level education
· 25-year-old curriculum used for primary and secondary education
· Very limited basic materials or supplies available to teachers for instruction
· Inadequate books and desks available to students
Health Care
· Adolescent pregnancies account for 1 in 4 births nationally.
· 33% of children have some degree of chronic malnutrition and 9% suffer from severe malnutrition
· Public health care often fails to provide adequate care due to long wait times, lack of well-trained doctors and inadequate facilities
· 53% of the U.S. population wears contacts or glasses, whereas in rural Nicaragua, it is rare to find anyone wearing glasses
Commerce Development
· Nicaragua has a per-capita gross national product of $453
· 1 in 4 households are led by single women
· 45% of all income goes to the richest 10% of the country's population, while only 14% goes to the poorest
· The blue-collar workforce has left the country to find employment elsewhere
· Many of the people who left during the 1980s have returned with well-educated children who are now entering the workforce where there is a shortage of jobs
Infrastructure
· Safe water and sanitation coverage continues to be low, particularly in rural areas and those with dispersed populations
· Access to rural areas is often impossible due to impassable roads during the rainy season
· Telecommunications and Internet service is not available in rural areas